The Museum will virtually bring to your homes a selection of photographs coming from our archive. Every week you will discover new images.
Chief White Elk" and the blackshirts, Tuscany, 1924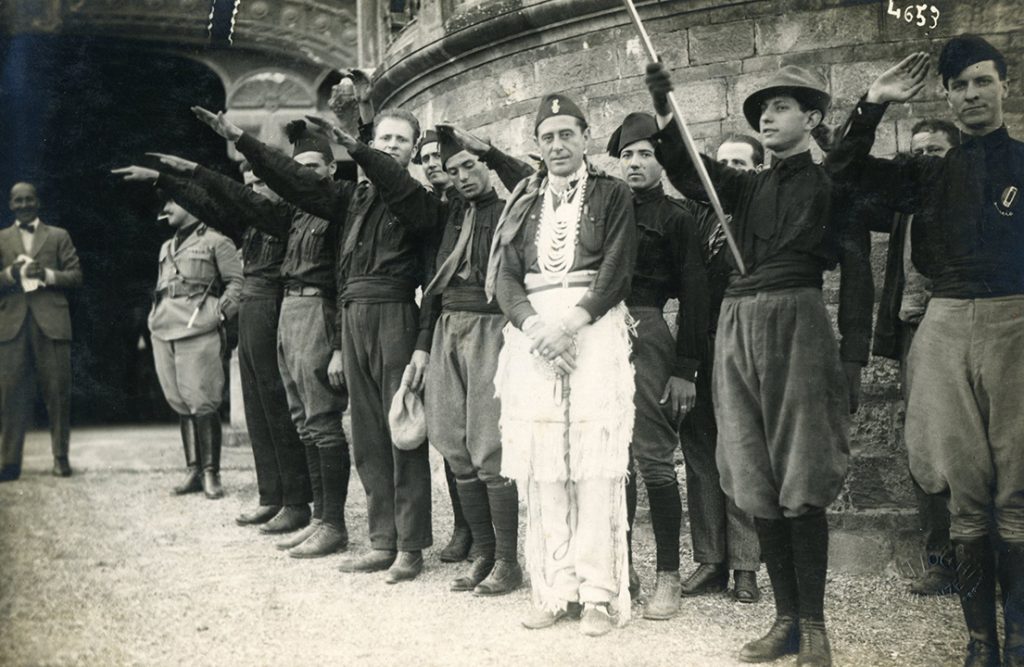 Tullio Locchi, gelatin silver print pasted into an album.
Edgar Laplante was born in Pawtucket (USA) in 1888. After entering Europe to act in the movie La caravane vers l'Ouest using the pseudonym of Chief White Elk, he arrived in Italy in 1924 and passed himself off as a delegate of the League of Nations elected to represent the Native Americans. The dear leather jacket with fringed pants allowed him to become very popular and to receive all the honours from the Italian fascist regime.
In this picture he is portrayed during his visit to Tuscany posing together with a group of blackshirts doing the Roman salute. For this occasion, instead of wearing the classic Indian hat, he wore a fez. These clothes are on display in a window in the corridor of the Lombroso Museum.
Chief White Elk, with his histrionic character, managed to squander the fortune of two Italian-Austrian noblewomen both in love with him. Convicted of fraud and sentenced to five years of jail by Turin's court in 1926, he would justify himself by saying during the trial: "I'm an actor, I just did what people expected me to do".